Testimonials
Testimonials
Hetherington - Mr Squiggle
Thank you for looking after Normie…. and helping mum + me get through the funeral.
Your friendly straightforward manner + sensitivity really helped me cope with everything.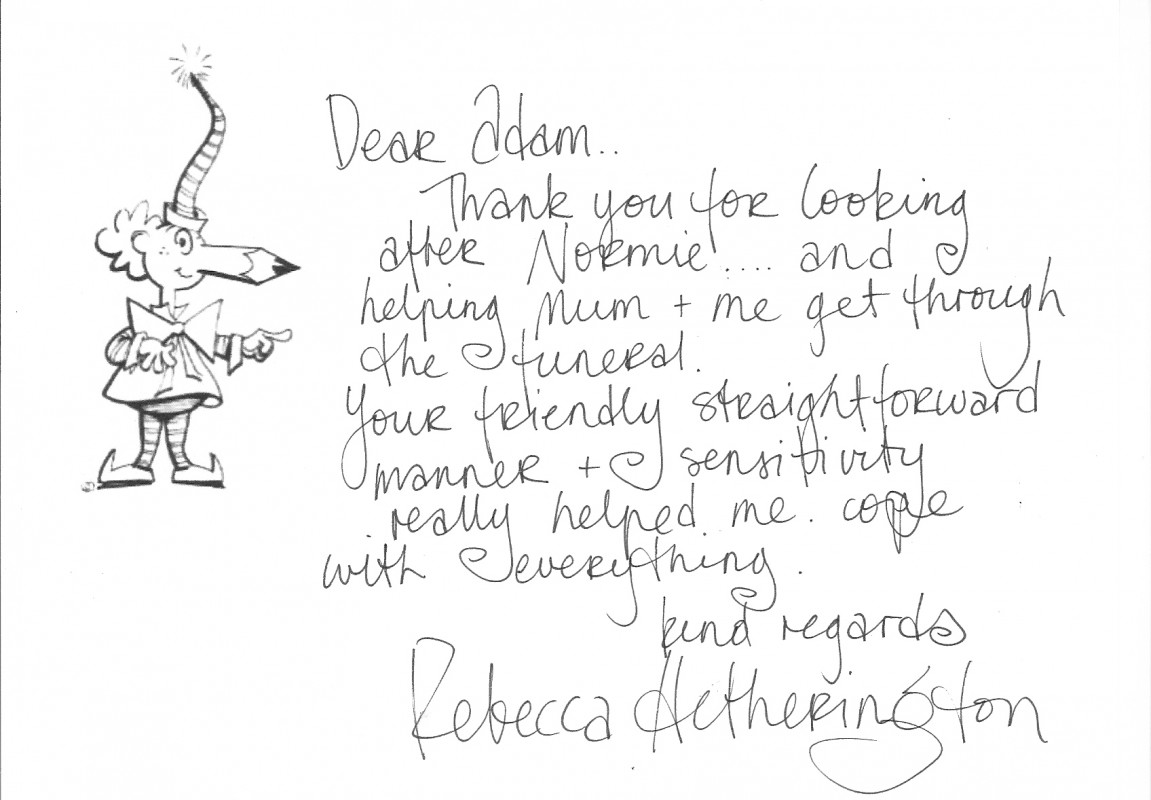 The Hon John Howard
My wife and I want you to know how much we appreciated the manner in which you handled the funeral arrangements for my wife's late mother. It was all done in a very careful, tasteful and helpful fashion.
It was an important, although sad occasion for the family and it was of enormous assistance to my wife that the funeral arrangements were handled in such a professional manner.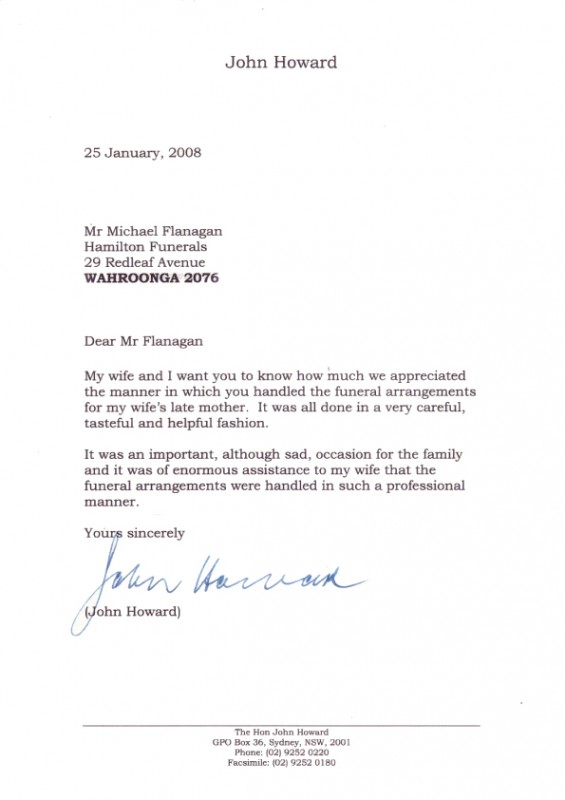 Winsome Tong
On behalf of the entire Loane family, thank you so much for all the arrangements you organised for Lady Loane's funeral on 28th March.
It gave me great peace of mind to know you were in charge of all the details; and so everything went smoothly.
Please pass on our thanks to your brother & father as well.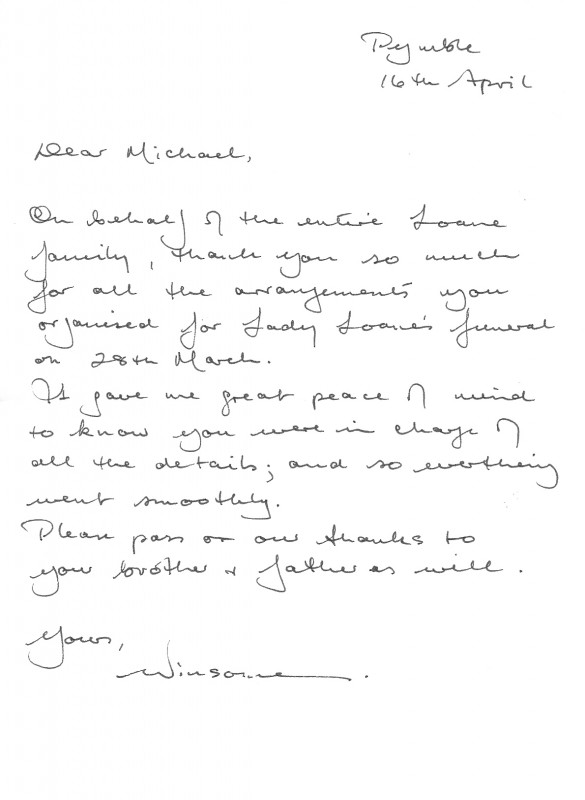 Lee Malone and family
I wanted to say thank you for the way that you and your staff dealt with us at such an emotionally challenging time. Our thanks also for your attention to detail with Brain's funeral; you were sensitive and understanding of our needs for a special farewell.
I can't thank you enough for your recommendation of Isla Tooth as celebrant; her professionalism, warmth and humour was something that helped us through this difficult process.
In regards to Brian's last journey, we loved the idea that he was riding in your elegant old Benz; we think that he would have been pleased to take his last ride in such a grand old lady.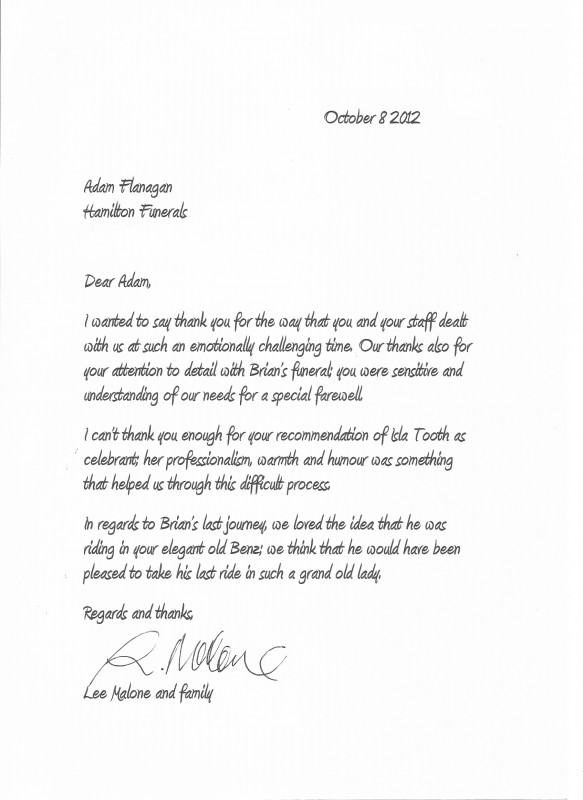 Vivian Barrett
Ashley, Paul and I would like to thank you for your help in organising John's funeral service and coordination with father Brian and Nothern Suburbs Crematorium for a chosen day and time as per our wishes.
We would like you to know how much we appreciated the way you handled the funeral arrangements in such a tasteful and caring manner during a difficult time for us.
Thank you very much Adam, Michael and Vienita.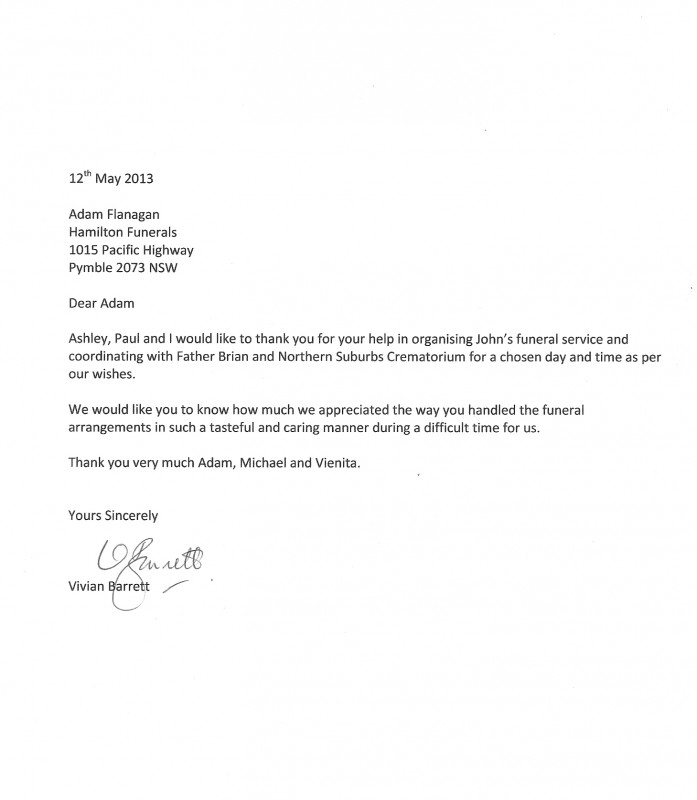 Suzanne Peddie
I am writing to thank you for helping to organise the funeral for my mother, Merle Connolly, last week.
We all thought it was dignified and appropriate and a fitting celebration of our mother's life.
The flowers were just as we had hoped. Having six of her grandsons as pall – bearers was most poignant – although it must have been a bit of a challenge to muster the unruly mob.
After our discussion with you, we were pleased with the decision for our mother to be buried at Bingara. Today, my brother and sisters are on their way to the end of her journey.